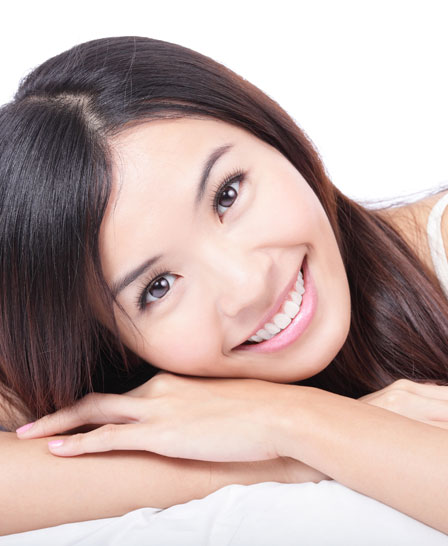 Cosmetic dentistry can change your life. If you are unhappy with the appearance of your teeth, there are dental treatments available that can transform your appearance and boost your self-esteem. From professional teeth whitening treatments to white, tooth-colored restorations, any smile can be improved. Our practice knows that patients with less than perfect teeth might be suffering with lower self-esteem and diminished confidence. By offering cosmetic services, we know that we can make a positive difference in our patients' lives.
Teeth Whitening
A professional whitening treatment is far more effective than store-bought kits and toothpastes. Professional whitening can result in a smile that is about eight shades lighter than it was before treatment. Our practice utilizes high quality ingredients with prescription whitening solutions that are formulated to penetrate tooth enamel so that deep, permanent discoloration can be lifted. Since we utilize prescription whitening solutions, those with sensitive teeth can enjoy a whiter smile, too. The whitening formulas are stable and do not contain harsh abrasives like some over the counter products.
Composite Fillings
Composite resin fillings are a tooth-colored compound made from a mixture of glass and plastic. It is applied to the teeth in liquid form and then hardened with a curing light. Composite resin makes for beautiful restorations and undetectable dental work. This means that patients with tooth decay and areas of damage can protect their teeth without sacrificing the appearance of their smiles. Moreover, if you are tired of old, dark metal dental work, Dr. Diehnelt can remove old fillings and replace them with white, tooth-colored ones.
Porcelain Restorations
Porcelain is a great material for restorations, and it is used to construct custom crowns, bridges and smaller restorations like inlays and onlays. This material allows our patients to receive the restorations they need to protect their teeth without sacrificing the appearance of their smiles by having conspicuous metal dental work. For instance, porcelain crowns can conceal chips, cracks, stains and misshapen teeth. Restorations can also rebuild a bite affected by decay and worn dentition so that a person can enjoy better oral function and a healthier occlusion.
If you want to improve the appearance of your smile, we invite you to schedule a cosmetic dentistry consultation with Dr. Diehnelt. At your appointment, we can assess your unique needs and build a treatment plan that is just right for you.
What are my tooth replacement options?
Having lost teeth is not a hopeless situation. Patients do have options when it comes to replacing missing teeth. Bridges and dentures are the most conventionally popular options; however, dental implants have become the go-to tooth replacement method in recent years.
Dental implants address the need for replacing the roots of teeth. With dental implants, a tooth's root is replaced with a titanium, screw-like prosthetic that is embedded into the jawbone. Once bone stabilizes the implant, it is ready to hold a permanent restoration like a dental crown. To keep a smile as natural looking as possible, porcelain is often chosen for restorations and prosthetics like bridges. Porcelain is a very tooth-like material that blends in seamlessly with existing biological teeth.
How is a chipped tooth repaired?
A chipped tooth can be repaired with restorations. If the chip is small, composite resin, a compound used for fillings and bonding treatments might be used. Composite resin is a tooth-colored compound that is applied to teeth in liquid form to fill in chips, cracks, and depressions in a tooth left by decay. By applying composite resin, a tooth is strengthened and protected from further damage.
If a chip is larger, an inlay, onlay, or dental crown will be used. Most of the time, a dental crown is preferred for larger areas of damage because it will protect the entire tooth. A crown is a tooth-shaped cap that is placed over the visible surfaces of a tooth down to the gum line. Crowns can be constructed from porcelain so that they appear very natural.
What is a dental crown?
A dental crown is an extensive restoration that is used to treat significantly damaged teeth. Teeth with large chips, cracks, and decay can benefit from receiving a crown. Sometimes, multiple crowns can be used to conceal smile imperfections by rebuilding dentition and covering visibly damaged teeth. If patients choose materials like porcelain or porcelain fused to metal, they will enjoy a very natural looking restoration that greatly improves the aesthetic of their smile.
How can cosmetic dentistry help improve the appearance of my smile?
Cosmetic dental treatments can improve the appearance of a multitude of smile imperfections. Simple treatments like teeth whitening can make a huge difference in one's appearance. Those with more obvious smile imperfections like cracked and worn down teeth or intrinsic discoloration can be concealed with dental crowns – restorations that will also protect teeth from damage and disease in the future.