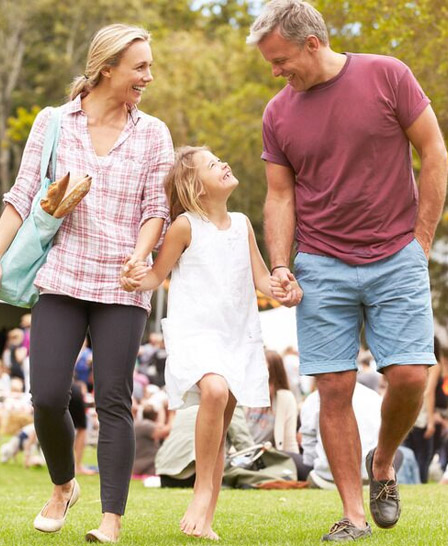 People of all ages require dental healthcare. From children to adults in their advanced years, Dr. Diehnelt and our highly experienced team provide preventive, restorative and cosmetic dental services that help improve oral function, health and the aesthetics of a beautiful smile. Our family-friendly practice is welcoming and serene to all our guests. By utilizing the latest technology and advanced treatment protocols, we can help people throughout our community manage their oral health.
Benefits of Having a Family Dentist in Schaumburg Illinois
By having one dentist for the whole family you receive simplified dental care in which your dentist is able to see the whole family at one convenient location. Why waste time scheduling multiple appointments and multiple locations. At Serenity Dental Studio in Schaumburg we can see your whole family the same day! Over time our staff and dental professionals will get to know your family members better and will be able to provide you each individual with a personalized dental care plan. Having consistency in dental providers can help reduce dental care anxiety, especially in children.
Family Dental Care Services Available at Serenity Dental Studio in Schaumburg:
Dental Cleanings and Checkups
Receiving regular dental cleanings and checkups is an important component of preventing and detecting disease and other oral health problems. Teeth & gum cleanings and dental checkups are the best way for our dentist to keep an eye on your oral health. A checkup at Serenity Dental Studio is very thorough; our team of dentists are able to spot everything from dental caries and gum disease to oral cancer and TMJ disorder. In almost all instances, detecting disease and oral health issues early means that patients' treatment will be cost-effective and minimally invasive.
Like checkups, cleanings have oral health benefits, too. A professional cleaning is the only way to remove the accumulation of calcified (and dangerous) substances like tartar. Since the instruments used during cleanings remove tartar, regular cleanings can help prevent periodontal disease. To schedule your cleaning and checkup please call us today at: 847-519-1711
Dental Restorations & Fillings
Since tooth decay and general tooth wear affect nearly everyone at one point in their lives, receiving a dental restoration treatment is almost a universal experience. Restorations are necessary because damaged teeth cannot regenerate new tissue to heal themselves. When significant damage is present, it will expose the softer contents of a tooth to debris and bacteria. This is why dental restorations and fillings are important for preventing cavities, chips and cracks, and dental infections. Our practice places composite (tooth-colored) fillings, crowns, bridges, inlays and onlays.
Preventive Care
Prevention is a huge aspect of our practice's mission. By preventing disease, we can save our patients from developing uncomfortable and destructive health conditions while also keeping their healthcare costs as low as possible. Common preventive services include checkups and cleanings, fluoride treatments and dental sealants. Fluoride treatments and dental sealants strengthen the outside of teeth to prevent decay and tooth wear.
Periodontal Therapy
Periodontal disease is a major threat to your oral health. Without treatment, gum disease can become chronic and progressive. Advanced gum disease is actually the leading cause of tooth loss in adulthood. Our practice offers periodontal therapy to improve gum health and manage the progression of gum disease. Periodontal therapy involves specialized treatment called scaling and root planing. Scaling removes tartar accumulation below the gum line and along the roots of teeth, while root planing gently smooths the roots of teeth to thwart future tartar attachment.

Serenity Dental Studio in Schaumburg is currently accepting new patients. Call us today at 847-519-1711 to reserve a checkup with Dr. Diehnelt!
Why should I go to the dentist regularly?
You should visit the dentist regularly to protect your oral health. With regular visits, you increase the odds of our team detecting potential problems and conditions as early as possible. Early detection, in most cases, means that a person's treatment will be minimally invasive, short, and budget-friendly.
Beyond checkups, regular cleanings are essential to protecting your oral wellbeing, too. A cleaning involves gently scraping away harmful substances like tartar, cleaning deeply between teeth, and polishing teeth. Receiving a cleaning is not uncomfortable or invasive.
In addition to preventing problems, a dental checkup could reveal issues that could affect the entire body such as oral cancer, enlarged glands, and infections such as abscesses.
What if I have an emergency?
While our practice hopes that none of our patients have to endure dental emergencies, we know that accidents happen. If you are in need of expedient treatment for a chipped/cracked tooth, knocked out tooth, or if dental restorations like crowns or fillings have fallen out, you will want to call our practice as soon as possible to schedule an appointment. We offer same-day treatment for issues like abscessed teeth and broken or loose teeth.
How often should I brush and floss?
Brushing and flossing is your first line of defense against common oral disease like cavities and periodontal (gum) disease. You should brush your teeth at least twice a day and floss your teeth once a day, every day. Brushing and flossing are necessary to preventing the accumulation of plaque and tartar, both of which contribute to dental caries and gum inflammation.
How can periodontal disease affect my health?
Periodontal disease is a condition where the gums become severely inflamed and infected. Normally caused by neglecting one's oral health, which results in the accumulation of tartar and bacterial overgrowth, periodontal disease can advance into a very serious health condition. Advanced periodontal disease can wreak havoc on your health by destroying gums, teeth, and even bone with a powerful, chronic infection. There are also numerous studies that explore the link between periodontal disease and cardiovascular health.